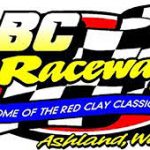 Ashland, WI, July 28 — The ABC Raceway Hall of Fame's Class of 2018 inductees were formally presented to an appreciative crowd on hand at the northern Wisconsin stock car track on Saturday night.
The honorees included four retired drivers, four current and former members of the track's all-volunteer work staff, and a local business recognized for its long-term service.
North Star Beverage of Hurley was a unanimous choice as this year's honorary inductee. The popular and successful business has maintained a close and supportive relationship with the Raceway for over 40 years, in large part due to the active involvement in the local racing scene by its former owner, the late Don Koivisto, who was a popular racer and race car owner. However, North Star's current management and staff have continued to work generously with the track in providing quality refreshments for the Raceway's fans to enjoy.
The induction plaque was presented to sales manager Tony Cunico, who accepted on the behalf of the business.
Drivers who are inducted into the Raceway's Hall of Fame are required to be completely retired from active racing for a minimum of five years. They are also considered for induction based upon their accomplishments at Ashland's track and others, as well as their positive contributions to ABC and to the sport in general.
Ashland's Ray Gregor raced successfully in the late 1960s and early '70s, earning eight feature wins as well as the 1970 Hobby Stock championship, behind the wheel of his popular blue number 10 Chevelles, which were always fast and very well-presented. The popular driver was considered a true gentleman in the sport, and he continues to support the efforts of the Raceway.
Greg Jaeger of Mellen found his success in the Raceway's Six-Cylinder division, in which he earned two points titles (2007, '10), 14 victories, and eight other top-ten points finishes from 2003-'12. He has also served on the Raceway's Board of Directors, and he donates his time as an on-track official, with track preparation, and as part of the Raceway's Six-Cylinder rules committee.
Tim Mackey, another popular and successful Ashland driver, collected 20 feature wins in the Hobby Stock, Street Stock and Super Stock classes during the 1990s. He won his first track title in the Hobby Stocks in 1993, then grabbed another title when the division was changed to Street Stocks in 1994. He finished his career in the Super Stocks, where he accumulated three more top-ten points finishes.
Ashland's Bob Mattson piloted what were considered some of the fastest cars on the track back in the late 1960s to very early '70s. He amassed ten feature wins over his career, including four during his 1967 championship season. He was a master mechanic and fabricator, but he was also known for being extremely polite and kind to fans, track employees and his fellow drivers.
Those inducted into the track's Hall of Fame under the Volunteers & Contributors category are required to have a minimum of ten years of service to the facility and are considered if they have contributed significantly to the success of the facility and positive growth to the sport in general.
Current Raceway president Eric Erickson has long been one of the most dedicated members of the Ashland-Bayfield County Racing Association in its 54-year history. Having performed nearly every imaginable duty for the club and on its Board of Directors, he has also served as president of this organization twice before, plus in that same capacity for the WISSOTA Promoters Association.
A highly respected person in the community as well as at the race track, Gordy Gilbertson earned a reputation for being very dependable. He has served as a Board member, including as Association secretary, and has provided help with trackside security. Gordy and his wife Judy have also worked several seasons manning the driver draw booth in the pit area, and more recently he has been active on the Hall of Fame committee.
Cheryl Klobucher is considered invaluable to the organization as its long-time treasurer. She has served for many years on the Raceway Board, and her administrative, organizational and promotional skills and in-depth understanding of finance have helped the Raceway in nearly every aspect of its operation. In recent seasons she has headed up the Raceway's growing social media efforts.
The late Pete & Carol Seemuth spent over 20 years assisting with important tasks throughout the organization. Pete assisted with countless maintenance projects and track preparation, while Carol worked the ticket booths and welcomed fans. Both were known for their dependability and punctuality, and their sons Brian and Dean became enthusiastic race fans because of their parents. Dean Seemuth accepted the induction on behalf of his parents.
The inductees, along with their invited families and friends, joined other ABC Raceway Hall of Famers and their guests for a relaxing social luncheon earlier in the afternoon at Zar's Bar & Banquet Hall, which also presented the race program later at the track.
The induction ceremonies were held on the front straightaway of the historic three-eighths-mile red-clay oval during intermission of Saturday's race program. The addition of this year's group of honorees brings the total number of ABC Raceway Hall of Fame members to 49.
The ABC Raceway is located 3-1/2 miles south of Ashland on State Highway 13 and one mile west on Butterworth Road.
by Nick Gima