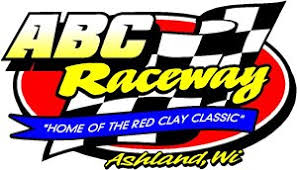 Ashland, WI, August 18 — The ABC Raceway is set to show its appreciation to its fans with a fun and busy night slated for this Saturday.
                First off, Northern Wisconsin Fence of Phillips and Outlaw Graphics of Ashland will present the track's annual "Summer Blast" fan appreciation night. Food and drink specials and prizes will be offered throughout the evening, and music and dancing is set for after the races.
                Secondly, the previously rained-out 12th annual "Midwest Mod Madness" special for the WISSOTA Midwest Modifieds will be held. The event, presented by Lake Shore Cafe of Ashland, will pay $1,000 to the feature winner, plus increased checks to the second- and third-place finishers, courtesy of George Dalbeck of DA Dalbeck Logging of Wakefield, MI.
                Dalbeck, a very successful Midwest Mod racer at Ashland's three-eighths-mile red-clay oval over the years, won both the track championship and the Red Clay Classic feature in 2011, as well as this event twice, in 2010 and '12. He sits second on the Raceway's all-time feature win list for the Mid-Mod division.
                "George has been a tremendous supporter of the Mid-Mods as well as of our track," Raceway president Eric Erickson recently emphasized.
                The entire Midwest Mod field will be competing for an enhanced overall purse. Combine that with the fact many drivers tend to travel now to spend some time on tracks that they will run during the upcoming Invitational season, and that should draw a significant number of Mid-Mod racers from throughout the region to compete on the historic red-clay oval.
                The race program itself will also be a very important part of the night's festivities, with all five regular weekly divisions in action and points championships in each still to be decided.
                Kevin Eder leads fellow Ashland racer Steve Stuart by just 37 points in the WISSOTA Modified standings. Eder is looking for his first career points title, but five other drivers are within 68 points of the top of the "big Mod" rankings.
                Nick Oreskovich of Mason is looking to nail down his third straight WISSOTA Super Stock crown here, holding a 63-point cushion on Shawn McFadden Jr of Ashland. Oreskovich used a last-lap pass to win last Saturday's feature and strengthen his points advantage.
                Ironwood, MI's Paul Suzik used a second-place performance in last weekend's feature here to increase his lead to a mere 15 points on Superior's Dan Kingsley in the very tight WISSOTA Midwest Mod points battle. Along with Ashland's Tanner Hicks, the top three in the standings are separated by just 44 points.
                Tiffany Hudack of Ashland won her second straight ABC Six-Cylinder feature – and track-leading fifth feature win of the season – last Saturday night and will carry a 62-point advantage on Trego's Randy Graham heading into this weekend's action.
                Graham's second-place run in last Saturday's WISSOTA Pure Stock feature, combined with the absence of season-long leader and defending champ Andrew Hanson of Iron River, moved Graham into that division's points lead for the first time this year. With Hanson out for the remainder of the year due to a medical issue, Washburn's Don Livingston is poised to move into second place.
                Hot laps will start at 6:15 pm and racing will get underway at 7. Adult admission tickets are just $11 each, and kids ages 12 and under will be admitted free when accompanied by a paying adult. Fans can keep up with live race news and weather updates from the track by listening to "Z-93 Race Night" on WBSZ, 93.3 FM, online at www.wbszfm.com, or via the free HCG Radio app on their smart phones, tablets or other mobile devices, from 4:30-6 pm.
                The ABC Raceway is located 3-1/2 miles south of Ashland on State Highway 13 and one mile west on Butterworth Road. For raceday information call (715) 682-4990, or log on to the track's website, www.abcraceway.com.
ABC 8/18/18 MMs, fan night advance
by Nick Gima