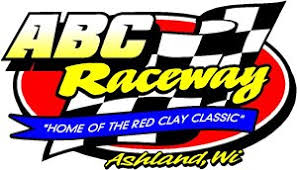 Ashland, WI, June 20 – Since the inception of the ABC Raceway's Hall of Fame in 2014, forty-nine inductees which have contributed to the remarkable success of the Ashland-Bayfield County Racing Association throughout its 55-year history have been honored.
On Saturday night, ten more inductees will be added.
Zar's Bar & Banquet Hall of Ashland will not only be the host of the celebratory luncheon for the Raceway's Class of 2019, but it will also be the presenting sponsor of Saturday's racing program. In between heat-race action and the track's six feature events, the honorees will be introduced to the fans on hand.
"This is such a special night for all of us who have been and are involved in the ABC Raceway," according to the track's Board president Eric Erickson. "We have been blessed with so many wonderful people and generous organizations who have helped the Raceway achieve the success that it has, and it is important for us to pay tribute to as many of those contributors as we can."
Inductees will be introduced in one of three categories – Honorary, Driver, and Volunteer & Contributor. Qualifications for each category are based upon certain criteria, but common across all is each inductee's contributions to the success of short-track stock car racing in the region and to the Raceway in particular.
Honorary inductees will include long-time supporter Lulich Implement and former track reporter and photographer Bob Wedlund.
Those being honored in the driver category include former Six-Cylinder stars Chuck Hawkinson and Art Hyde; long-time competitor Don Roseen (posthumously), and successful Modified racer Dean Yrjanainen.
In the Volunteer & Contributor category, inductees include former flagman Tom Koleski and his mother, the late Martha Koleski, who was a track treasurer; the late Pete Miller, a former track announcer; business owner Ray Parent, who supported many drivers in the track's formative years; and current track announcer, historian and publicist Nick Gima.
All six weekly divisions will once again be in action. Feature winners from last weekend's "Racing for a Reason" special night included Ashland's Steve Stuart in the WISSOTA Modifieds; Cory Casari of Montreal in the WISSOTA Super Stocks; WISSOTA Midwest Modified driver David Simpson of Thunder Bay, ON; defending track champ Tiffany Hudack of Ashland in the Six-Cylinders; Trego's Randy Graham in the WISSOTA Pure Stocks; and Duluth, MN's Dayna Marken, who won her first-ever WISSOTA Hornet feature.
Hot laps will get the program started at 6:15, and heat races will get the green flag promptly at 7 pm. The Hall of Fame ceremonies will take place on the track during intermission.
"Race Night" will air on WBSZ, 93.3 FM, with up-to-date track news and weather updates every 15-20 minutes from 4:30-6 pm; coverage will also stream on www.wbszfm.com and on the free Heartland Communications Group radio app.
The ABC Raceway is located 3-1/2 miles south of Ashland on State Highway 13 and one mile west on Butterworth Road. For raceday information call (715) 682-4990, or log on to the track's website, www.abcraceway.com.
Nick Gima